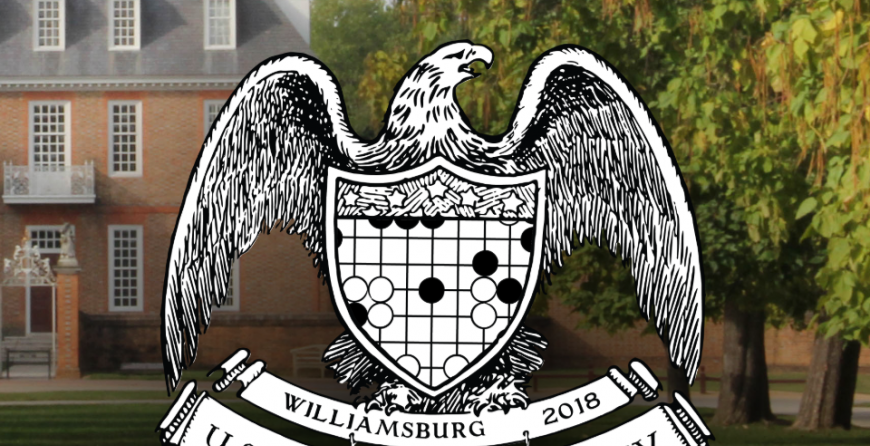 Today we have a special message from the congress director of the U.S. Go Congress 2018 in Williamsburg, Virginia. He would like to invite you to the United States East Coast for a week of Go during July 21 – July 28 (this does overlap with the first two days of EGC). Please also note that the Early Bird pre-registration discount for USGC will expire tomorrow, May 31.
Diego Pierrottet:
"This year the American Go Association brings the US Go Congress to the College of William & Mary,
the second oldest college in the United States. This event is hosted by the newly formed
National Go Center, an all-volunteer organization located in Washington D.C.

At the Congress, there are tournaments for every skill level including the US Open Masters, a 9-round 
event open from Pros to 7-Dan amateurs, or the US Open, which is a 6-round event open to all.  For 
the youth, this year marks the 25th annual Redmond Cup!  A full week filled with events, Pro lectures, 
workshops, and lot's of Go.

While you are here, travel back in time by visiting Colonial Williamsburg, Jamestown, or Yorktown that 
form the Historic Triangle, or visit the world class amusement parks and beaches in the area. See 
all our events, and activities in our web site at www.gocongress.org or download our official app for 
up to the minute updates on the congress: http://my.yapp.us/2S7NJB"
Our message to the U.S. Go community can be found here:
http://www.usgo.org/news/2018/05/u-s-go-congress-and-european-go-congress-back-to-back-in-2018/