How to get here
Destination address
Airplane
It is the faster and easier choice. Pisa's Airport is very close to the city, and there will be a bus service for the partecipants, arriving and leaving on selected dates.
Air France / KLM are the Official Carriers of EGC 2018.

Use this link to book your flight ticket with a special reduction for the EGC 2018. In the field "Event ID" insert the code 32205AF. The reduction will be in the range 10%-40%, depending on the flight.
Destination cities are Pisa and Florence. From Florence you can reach Pisa by a 1-hour train ride. Go the www.trenitalia.com to check the train timetable. Usually, there are 3 trains per hour.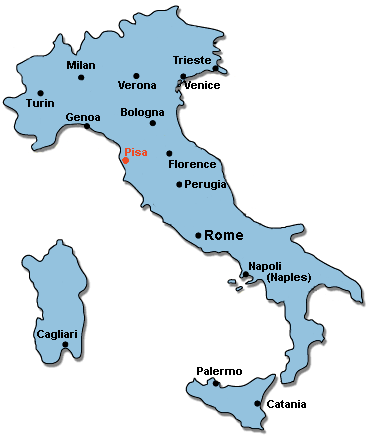 How to move around Italy
Pisa-Rome: 350Km
Pisa-Milan: 270Km
Pisa-Florence: 80­Km
Pisa-Venice: 340Km
Pisa-Napoli: 560Km
Train
Our first suggestion to move in Italy: is faster, comfortable, and if you buy the ticket some weeks before your trip, it will be very cheap (20-50€).
Websites:
http://www.trenitalia.com/tcom-en
http://www.italotreno.it/en
Bus
Is much cheaper than train (5-20€) but it takes twice the time, or more.
Website: Flixbus
Car
If you have a car, and people to share the trip with, then it will be cheaper than the train. Remember to check the motorway tolls, before you go.
Some roads in the city center, notably those by the river, are not accessible unless you have a special permission. Look for the ZTL signs, which indicate limited car access areas. Some hotels provide a permission to enter the center in the hotel area, ask your hotel if this is the case.
Both the Congress Palace and Sangallo Bastion are not in ZTL. Therefore they can be accessed without any special permission.
You can find a map of the city parking lots by checking the right boxes.
There is a monitored parking lot, right in front of the Congress Palace and parking areas nearby. Very little and sparse free parking, unfortunately. On street sides, white lines indicates free parking, while blue lines means paid street parking. When you park in blue lines parkings, look for a payment machine nearby where you can get a receipt. Put the receipt inside the car, visible from the outside.