How to get here
How to get to Italy
Airplane
It is the faster and easier choice. Pisa's Airport is very close to the city, and there will be a bus service for the partecipants, arriving and leaving on selected dates.
Air France / KLM are the Official Carriers of EGC 2018.

Use this link to book your flight ticket with a special reduction for the EGC 2018. In the field "Event ID" insert the code 32205AF. The reduction will be in the range 10%-40%, depending on the flight.
Destination city is Florence, from where you can reach Pisa by a 1-hour train ride. Go the www.trenitalia.com to check the train timetable. Usually, 3 trains per hour.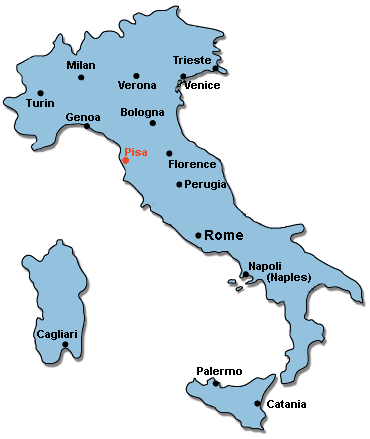 How to move around Italy
Pisa-Rome: 350Km
Pisa-Milan: 270Km
Pisa-Florence: 80­Km
Pisa-Venice: 340Km
Pisa-Napoli: 560Km
Train
Our first suggestion to move in Italy: is faster, comfortable, and if you buy the ticket some weeks before your trip, it will be very cheap (20-50€).
Websites:
http://www.trenitalia.com/tcom-en
http://www.italotreno.it/en
Bus
Is much cheaper than train (5-20€) but it takes twice the time, or more.
Website: https://www.flixbus.com/
Car
If you have a car, and people to share the trip with, then it will be cheaper than the train.
Remember to check the motorway tolls, before you go!